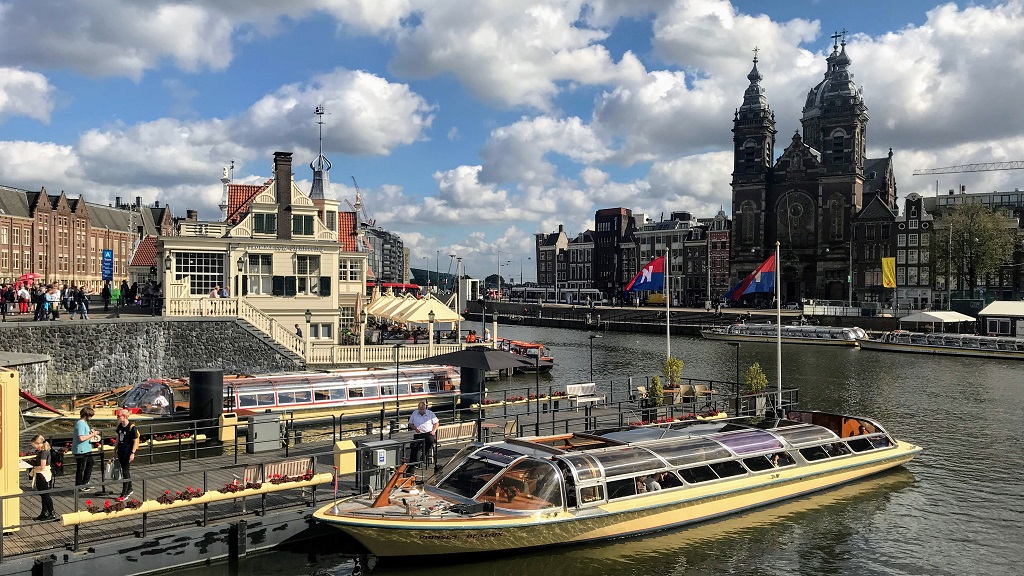 IBC Show 2019 Review
The International Broadcasting Convention (IBC) is an international broadcast exhibition held in Amsterdam, The Netherlands, every September. At this event, which marks its 52th anniversary this year, PallyCon exhibited its first booth and participated.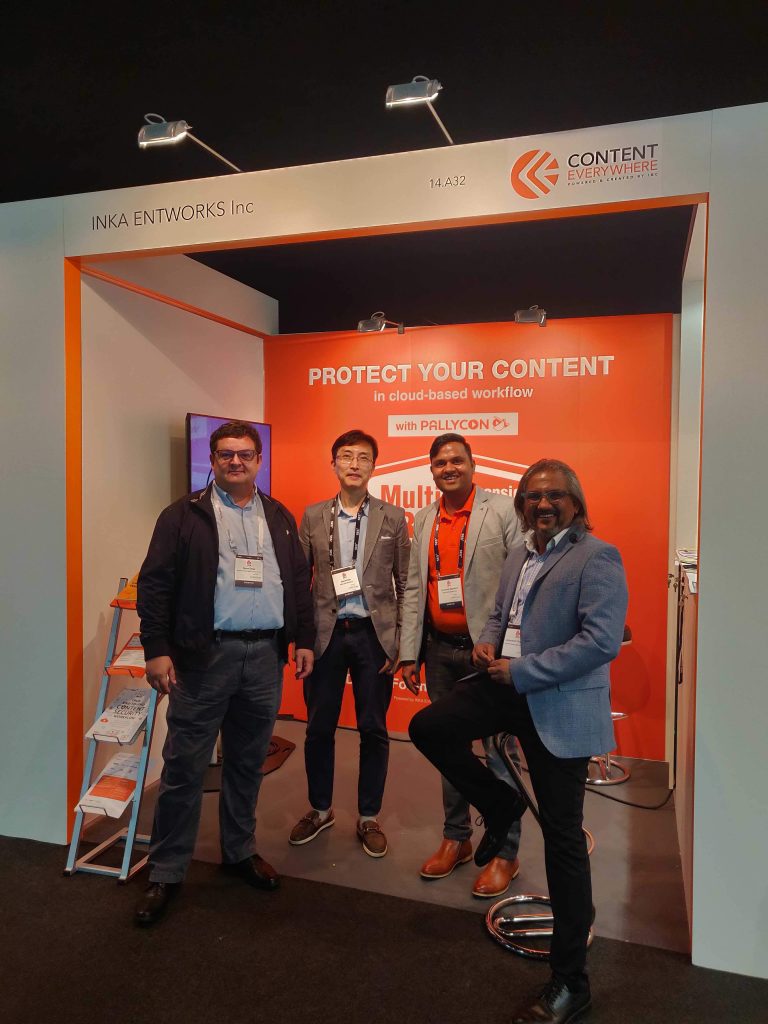 This review summarizes the highlights and new industry trends at the IBC 2019 exhibition, which was held from 13 to 17 September.
---
IBC 2019 Exhibition Highlights
IBC is the second largest broadcast / media exhibition following the National Association of Broadcasters (NAB) Show held in April in Las Vegas, USA. This year, the NAB exhibition attracted approximately 91,000 visitors and the IBC exhibition attracted approximately 56,000 visitors from all over the world to see the latest technologies and products. The main issues of this IBC related to PallyCon are as follows.
MovieLabs –
Hollywood's vision for the future of production in 2030
MovieLabs hosted a forum that gathered technology leaders from major Hollywood studios to discuss the future vision of technology related to content creation during this IBC.
MovieLabs was founded by studios to study technologies related to the distribution and security of movie content. Last August they published the '2020 Vision' white paper which presented a vision for the revolutionary advancement in media content creation technology over the next decade.
This white paper focuses on remote production and pre-production using VR / AR technology, security throughout the content creation and distribution process as the cloud-based production environment and workflow are introduced throughout the industry.
CMAF and Ultra Low Latency
Common Media Application Format (CMAF) is a standard for unifying the media streaming formats divided into DASH and HLS. (reference link)
Key points discussed at the CMAF Developer Forum during this IBC include:
The primary goal of CMAF is to achieve compatibility with DASH and HLS content, resulting in efficiency and cost savings through a single format.
Currently, the implementation of Ultra Low Latency through CMAF is receiving the most attention, but this is only one function of CMAF.
Apple's newly announced Low-Latency HLS is a different technology from CMAF's chunked transfer encoding, but CMAF-IF will work to prevent this fragmentation of streaming formats through a single format.
In addition to CMAF and Low-Latency HLS, the player solution company THEOplayer has announced its own Low Latency Streaming Specification called 'High Efficiency Streaming Protocol' (HESP) at IBC.
It is important to keep an eye on how these different streaming formats will evolve and apply to the industry in the future.
4K 4Charity Fun Run
4K 4Charity is a '4 km run' event held at various broadcast / media events such as NAB Show, IBC Show and SMPTE. Launched in commemoration of the first 4K / UHD technology at the 2014 IBC exhibition, the event is dedicated to donating the full cost of participation to education-related nonprofits.
4K 4Charity got the Special Award at the IBC 2019 exhibition for its contributions, which have raised and donated more than $ 1 million in total. PallyCon team's Daniel Kim and Govindraj Basatwar also participated in this 4K Fun Run event and had a fun and meaningful time running along with the 600 participants.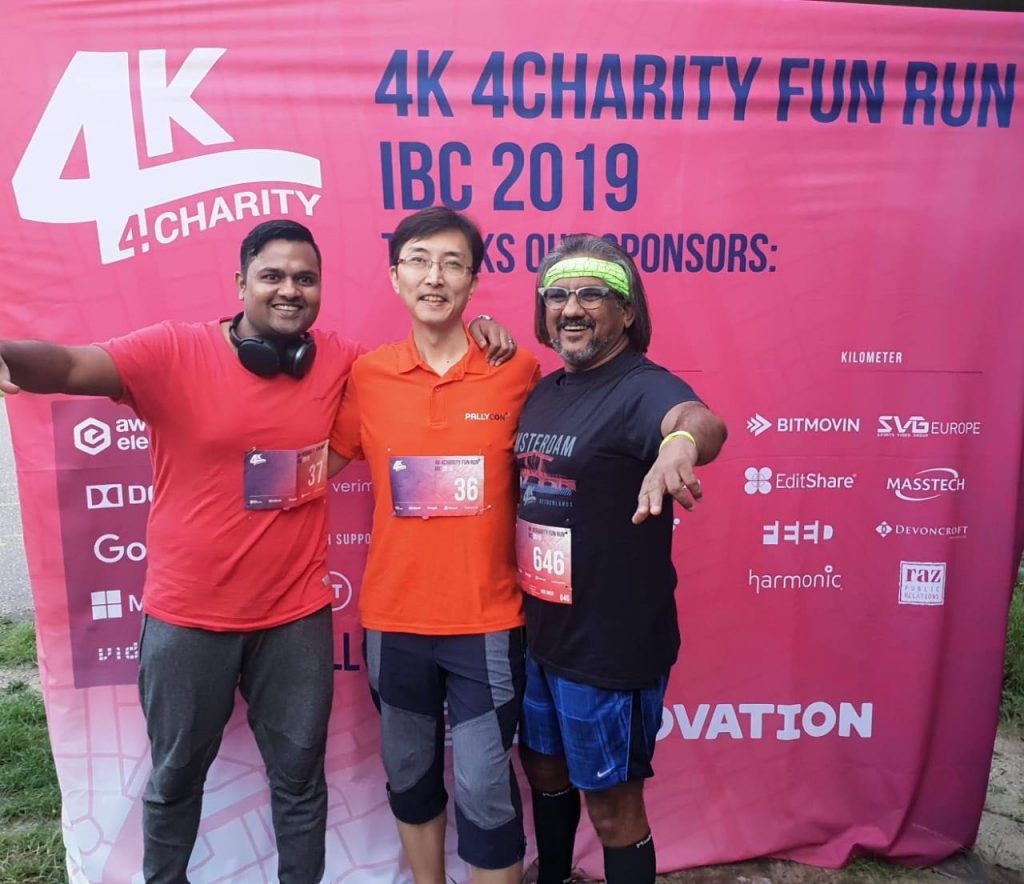 ---
Broadcast and Media Industry Trends
The International Association of Broadcast and Media (IABM) has published a special report on new technology trends across the broadcast / media industry for this IBC.
Regarding the direction to lead the change of the industry, this report summarizes the major issues of competition among global companies such as Netflix, Apple, and Disney, increased investment in content / platforms, and rapid response to changing market.
In addition, the following technical trends were identified at IBC.
Cloud
In the broadcasting / media industry, as with other industries, the introduction of cloud-based services is the most important topic. Almost half of the companies are already using the cloud, and more companies are expected to introduce it in various areas in the future.
New Technology Trends
In addition to technologies such as cloud, remote production, and IP-based content creation, the following new technologies were also key issues.
AI: AI and data-driven solutions are quickly entering the media content industry, forcing many companies to offer optimized and personalized services.
UHD: Many content services have begun offering 4K / UHD content, but the addition of high dynamic range (HDR) technology to FHD content has attracted attention as an alternative.
VR: While the popularity of VR headsets is an obstacle, the development of various VR-related technologies is progressing along with the utilization of VR in the content creation stage.
Blockchain: The introduction of blockchain technology in the media content industry is not yet in earnest.
B2B Content Workflow Security
As mentioned in MovieLabs' '2030 Vision' white paper and the discussion at the Cyber Security Forum, new technologies are required to prevent illegal leakage throughout the production / distribution process, as well as the B2C stages where content is delivered to end users.
It's worth checking whether cloud-based content security solutions for these B2B workflows may lead the market in the future.
---
PallyCon Booth at IBC
Many potential customers and partners, including pre-scheduled meetings and field visitors, visited the PallyCon booth at the IBC exhibition.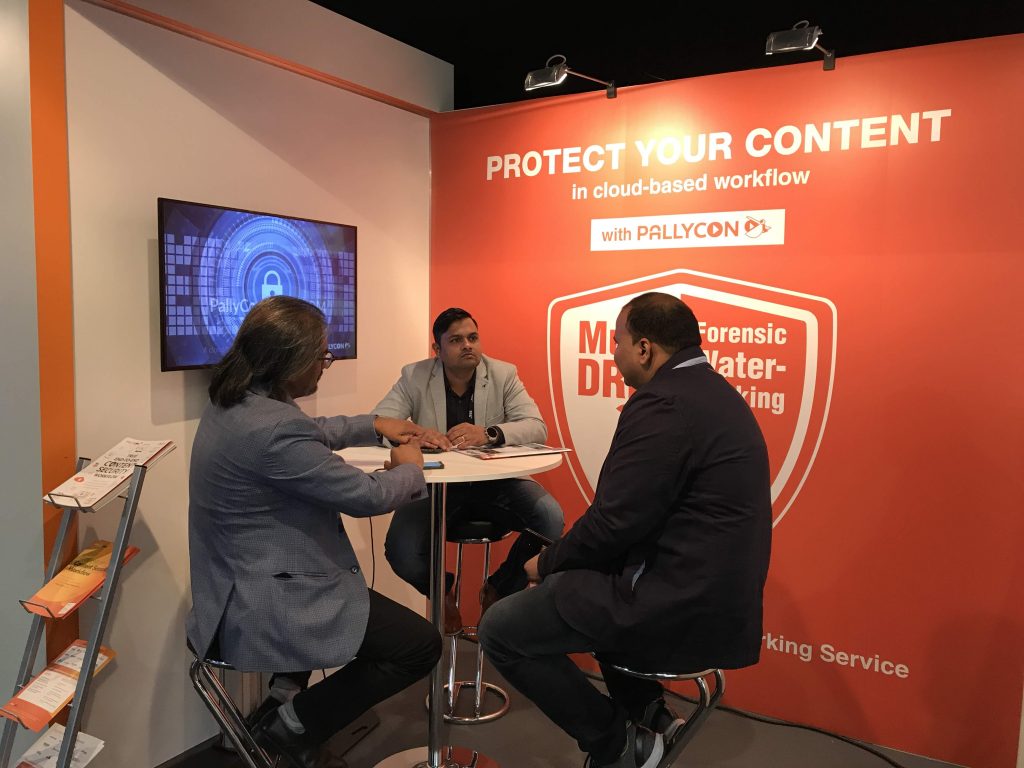 It was a good opportunity to promote PallyCon forensic watermarking and multi-DRM services in Europe, a new market. And we were able to get new business opportunities and industry requirements from a wide range of customers.
---
Content Everywhere Hub Session
The highlight of PallyCon's participation in this IBC was the presentation of Govindraj Basatwar, our global business head.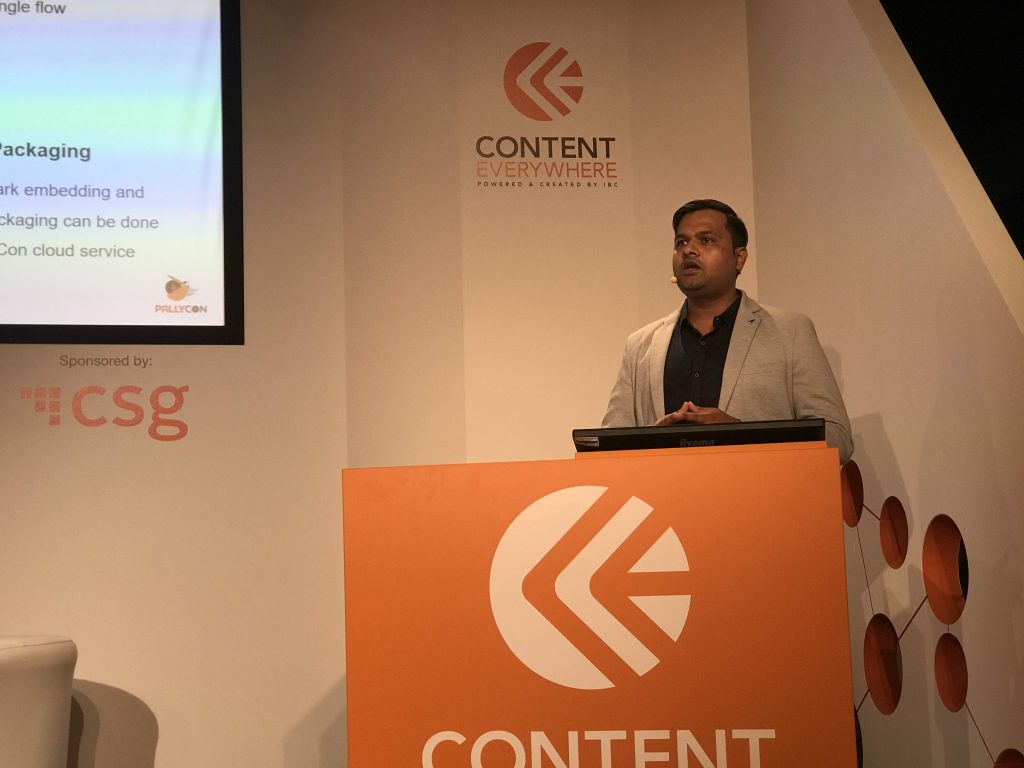 On the last day of the exhibition, on September 17, at the Content Everywhere Hub in Hall 14, RAI, Govindraj presented a cloud-based content security workflow under the title of 'First SaaS based forensic watermarking and multi-DRM'.
---
Conclusion
Participation in the IBC exhibition provided a wealth of information and opportunities for the PallyCon team.
In particular, we could learn and understand the European market, which has been difficult to access in the past, and we hope that it will be of great help to the global expansion of PallyCon service.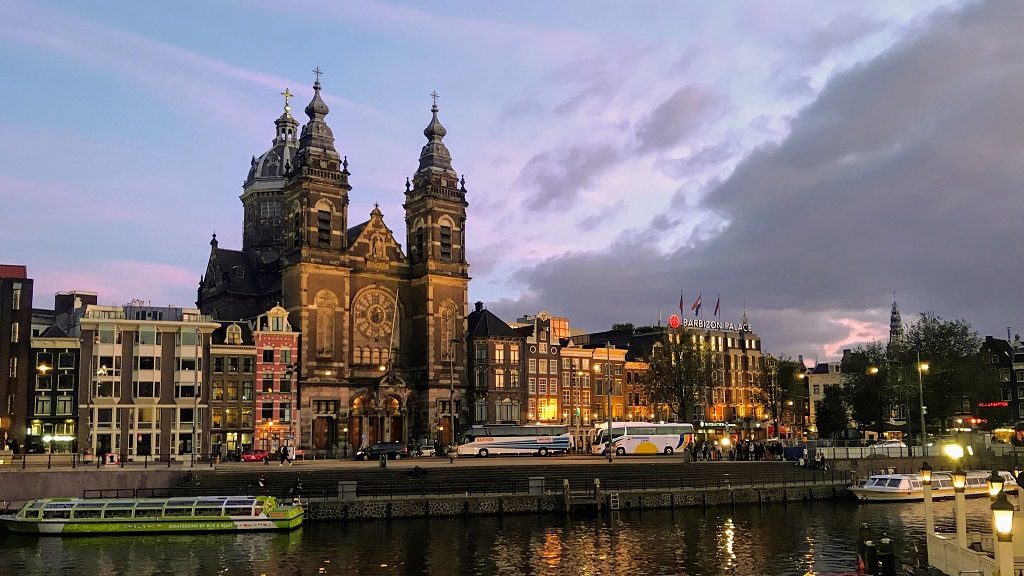 Daniel is a DRM specialist and has been associated with this industry for over 10 years. Other than this, he is addicted to reading and writing.