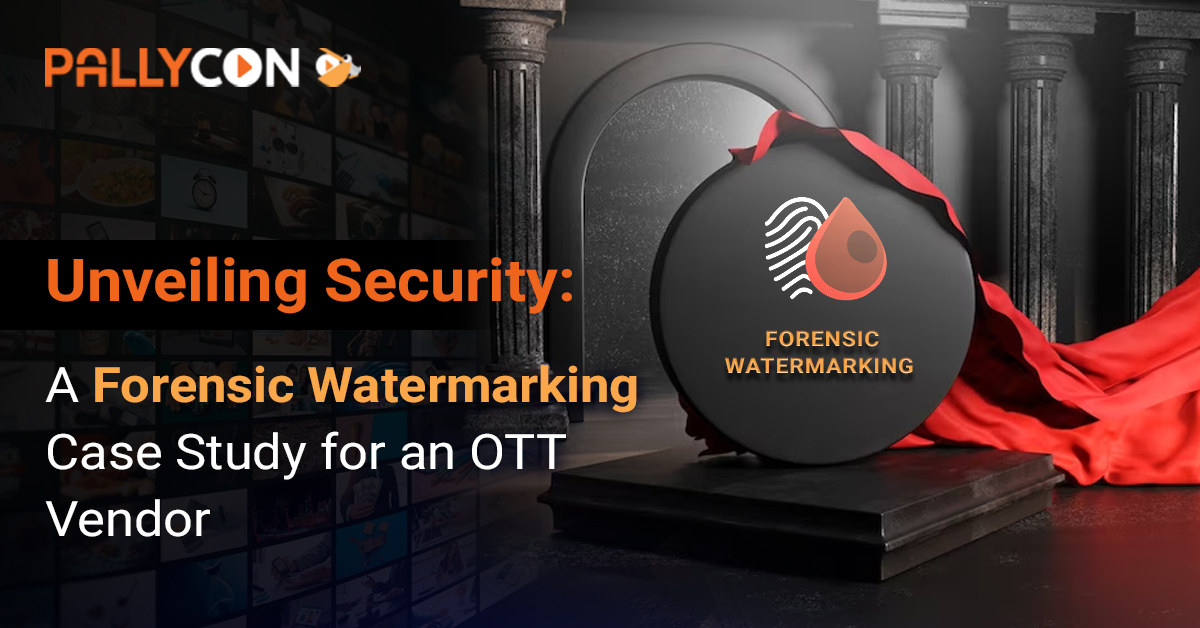 Unveiling Security: A Forensic Watermarking Case Study for an OTT Vendor
Business
One of the top OTT vendors from South Korea having more than 10,000 titles wanted to secure Hollywood movies released on their platform. They have their own encoding and transcoding system on premise and wanted a solution which will apply forensic invisible watermark for content & can support various specification: H.264, H.265, VP9, HDR10+, Dolby Vision, Dolby Atmos without degradation to quality and robust to attacks
Challenges
Scalable, robust watermarking solution to support various specification VP9, HDR10+, Dolby 

Should be easy to integrate in their existing environment

Should not degrade the viewing quality

Watermarking should not be visible on High resolution TV with HDR 10+

Watermark should be resistant to attack and supports auto extraction
 Solution
Develop a plugin which can generate watermarked content without changing the workflow

Easy pluggable FFMPEG based video filter plugin module was developed

It meet all the customer specifications and requirement of the hollywood studio

Extensively tested with all the formats and the best part was watermark detection succeeded even with camcorder contents.
Outcome
PallyCon's server side watermarking solution was developed as a plugin for ease of integration in a months time

This plugin supported all the specification/requirement mentioned by the customer

It also helped the vendor go live with the solution within a couple of  weeks
Workflow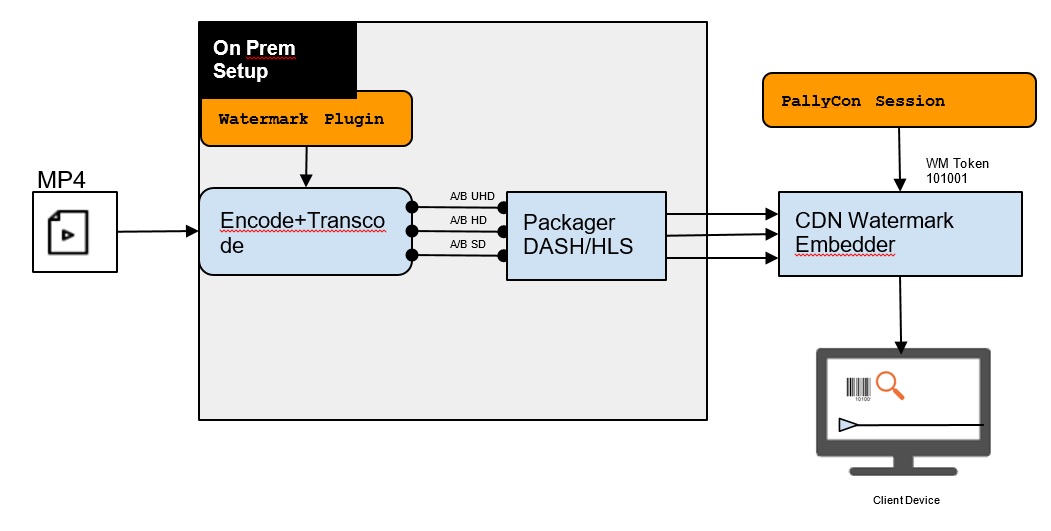 The video file is watermarked using the PallyCon FFMPEG video filter plugin during the encoding process

The generated stream is then trancoded to various resolutions and packaged in DASH/HLS format

When a playback request is made, the PallyCon session Manager provides a watermark token 

The watermark token is used by the CDN watermark embedder to mix the A/B streams and deliver a unique stream to the user.

Incase of content leak the specific user information can be extracted from it.
PallyCon's start of the art developed forensic watermarking solution has been cartesian certified for robustness and supports quick integration and secure content economically.
Benefits of PallyCon forensic watermarking:
Imperceptible, free from any artifacts, does not degrade viewing experience. 

Dynamic, scalable server side watermarking for large audience

Easy to integrate

Robust to various attacks such as cropping, camcording, scaling, filtering and retains watermark even after Digital to analog conversion

Pre Integrated with Akamai, Cloudfront

Support Blind autodetection and non-blind detection method
Item
Specification
Codec
H.264, H.265, VP9* support

Other codecs have not been identified but are able to be supported.

File format
Any Format
Resolution supported
Up to 4k/UHD
Dynamic Range
SDR, HDR (H.265) supported, HDR 10+, Dolby Vision
Streaming Protocol
DASH, HLS, CMAF
CDN integration
Cloudfront, Akamai
Watermark Datasize
Up to 255 bytes string using mapping table
DRM integration
Pre-integrated with Multi-DRM Playready, Fairplay and Widevine
Detection resolution
At Least 480P with 1Mbps – 720p or higher quality recommended

(**with video super resolution on edge device can support 360p)

Length of video for detection
5 minutes video length
Distribute encoding
Support