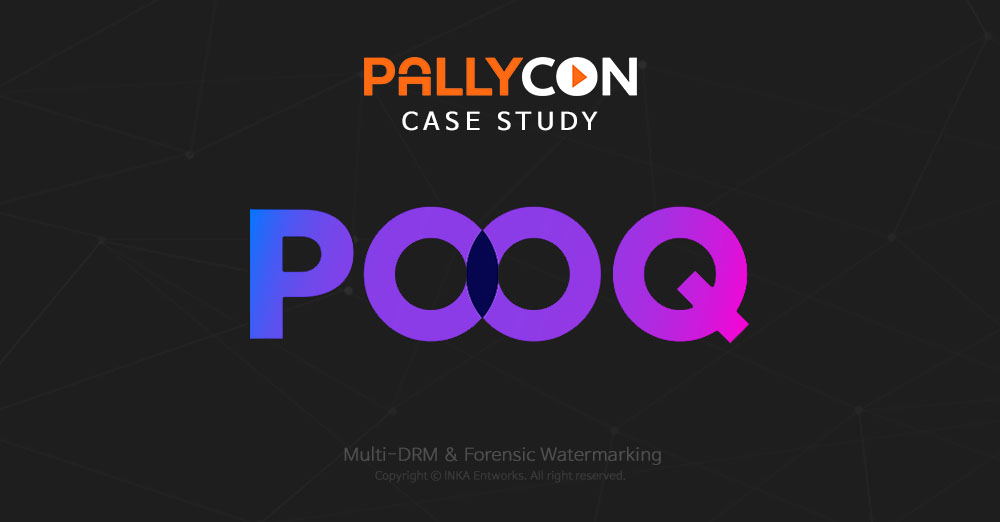 Content Alliance Platform: pooq – PallyCon Case Study
PallyCon Multi DRM is protecting premium contents of Pooq service.
The Content Alliance Platform, which operates an online video service 'pooq', has selected Inka Entworks' PallyCon Multi DRM service for the introduction of HTML5-based web standards and support for various OTT devices.
Limitations of Plug-in Based Security Technology
Pooq has applied Widevine Classic DRM, a plug-in based video security technology, to premium movie content. However, due to the inconvenience of the plug-in method, security vulnerabilities, and discontinued support by modern web browsers, it became necessary to introduce a new DRM solution that conforms to the HTML5 web standards.
In order to protect video streaming with the HTML5 Web standard, DRM technology that supports Media Source Extension (MSE) and Encrypted Media Extension (EME) standards is required.
PallyCon Multi DRM service provides PlayReady, Widevine Modular, and FairPlay Streaming DRM solution that supports MSE / EME standard and supports most web browsers including Chrome, Firefox, Edge, Internet Explorer 11 and Safari.
Native DRM Requirements of Hollywood Studios
To protect premium content such as UHD movie, the level of security requirements from Hollywood studios is getting higher. Browser plug-ins or downloadable software-based DRM technologies can not meet the security standards of these studios.
Multi DRM clients at the OS / platform level are equipped with hardware-based security technology to support the level of security required for Full HD and UHD Hollywood movie content.
PallyCon Multi DRM service provides DRM license interoperability API to use Native DRM of client platforms such as Android and iOS. Additional integration methods required by Pooq service is developed and provided to help development of their service applications.
Support for OTT devices to Expand Service Target
The success of an online video service requires as many client devices as possible to reach more users. To accomplish this, Pooq supports various OTT devices such as PC(web), mobile(iOS, Android) as well as ChromeCast and Smart TV.
With PallyCon Multi DRM service, DRM contents and integration standard applied to PC and mobile can be applied to most OTT devices. As a result, Pooq has been able to reduce the development resources and lead times required to apply the new DRM solution to OTT devices.
Result of Solution Introduction
INKA ENTWORKS has provided cloud-based PallyCon Multi DRM licensing service and technical support guide for DRM integration for Multi DRM introduction of Pooq service.
Built on AWS (Amazon Web Service), PallyCon cloud service supports fast and reliable issuance of DRM licenses and reduces the initial cost of service with pay-as-you-go pricing policy.
The PallyCon team, which is comprised of top-notch DRM experts and developers, provides development and technical support for the pooq service and operates a 24/7 control system to support uninterrupted customer service.
With PallyCon Multi DRM solution, Pooq has adopted web-based video technology to solve user inconvenience and complaint caused by plug-in based solution. It is now possible to satisfy the security requirements of Hollywood studio with Native DRM support. In addition, with the support of various OTT devices, CAPTV can provide Pooq service to more users.
For more information please visit https://www.pooq.co.kr/customer/company.html
Daniel is a DRM specialist and has been associated with this industry for over 10 years. Other than this, he is addicted to reading and writing.